Event/Workshop Report
2020.09.1
"The New Normal of Lighting Design"
As the novel coronavirus is raging all over the globe, and everyday life as we know it is gone now and renamed the new normal, what kind of business activities should IALD-Japan carry out? With four panelists composed of IALD-JAPAN Directormembers ; Miho Konishi, Masako Masaki, Tsutomu Nagatsu, Kazuhiro Nagashima, a webinar "The New Normal of Lighting Design" was hosted to discuss this topic.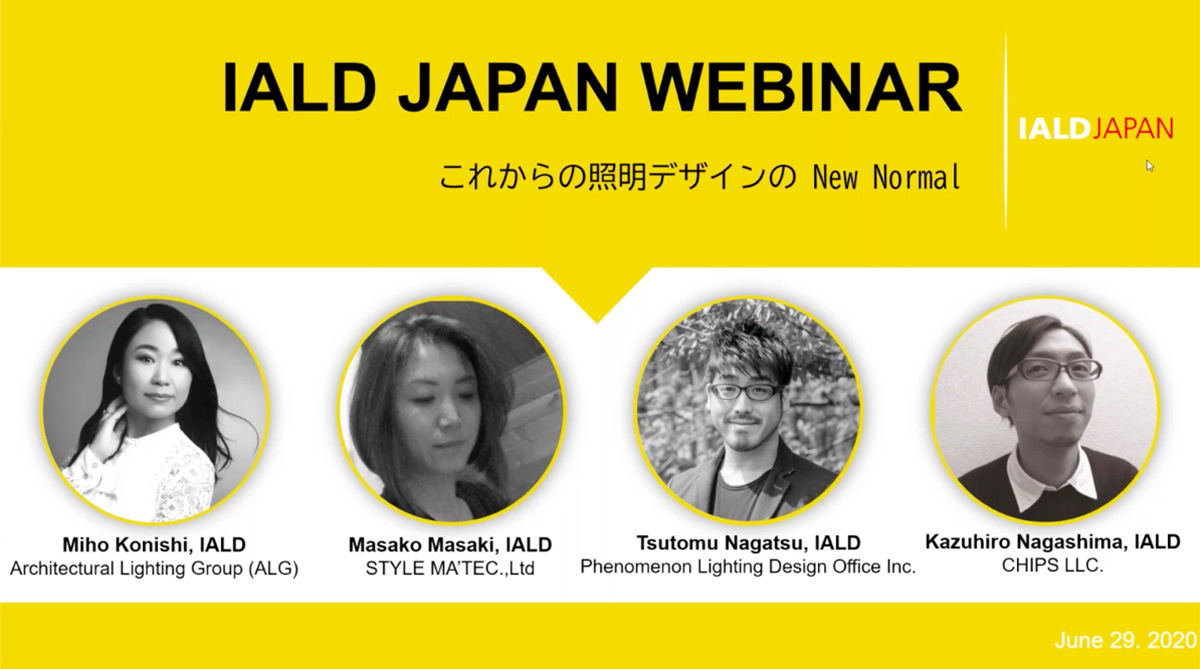 The webinar proceeds in the exploration of the "New Normal" for lighting design, as panelists answer questions prepared by Mr. Nagashima. They also respond to a query posed by Mr. Mende in the previous webinar, "What is your vision from the standpoint of lighting, or what social need can lighting design contribute to?"
The first question is, "Do you use incandescent lamps?" Answers split the group neatly into the two opposing sides: yes and no. The four panelists talk about their actual ways. Mr. Nagatsu, who does not use incandescent lamps, says that it is partly because clients request LED design, but also because there is hardly any fixture compatible with incandescent lamps. Ms. Konishi states that she naturally chooses LEDs when considering the future digitalization and seamless connection by the light.
As a matter of fact, even Ms. Masaki, who uses incandescent lamps, rarely uses them at work unless her client requests. In response to the question, "Isn't it wasting energy?" Mr. Nagashima answers that incandescent lamps are hardly used as their power consumption is inefficient and that we have LED anyways. speaks of an episode when he used incandescent lamps on a stage of a hotel in his past project, saying that there was a special feeling of being illuminated onstage when spotlighted by 500 W of heat. He adds that it can be good to use incandescent lamps for production and expression even in the era of LED.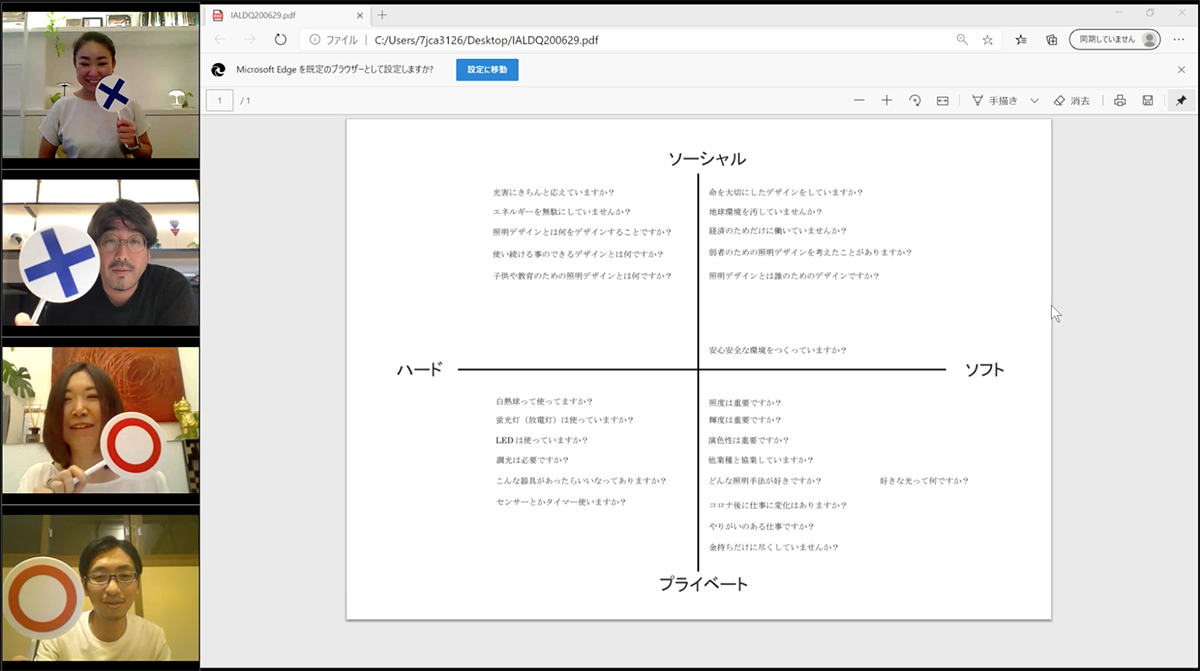 "Are illuminance, brightness, and color rendering important?": In response to this question, Ms. Masaki answers that the satisfaction of just one factor is not enough, and the balance is important in lighting design. Furthermore, she mentions that when considering "what is the lighting design for children and education?", it is more effective to illuminate the space with high color-rendering lighting that sets a lively color tone, where green or white comes into eyes, which motivates children in studying.
Besides, Ms. Konishi mentions that children experience so many things in their short and condensed period of 18 years, from preschool to elementary school education, junior high, and high school. What they see and feel drastically change, thus it is necessary to carefully design the elements of the light that can be felt. She points out that now that the number of situations in which children really experience has been decreasing in digitalized society, ways to strike a balance between "playing outside" and "enjoying space" with the light will be sought from now on.
The four panelists' discussion moves on to their approaches and philosophy for their own work, and then to the topic: "who is lighting design for?".
Lighting design itself has strong social elements. However, when one considers whether lighting design is for society or a client, the power balance becomes quite complicated, says Ms. Konishi. In contrast, for Ms. Masaki, the bottom line is that she likes lighting, and if she disregards her job, she may be designing for herself. On the other hand, Mr. Nagatsu says he mainly thinks about what to do not for a client but for users. After working with various clients, he has realized that they also design facilities for users, just taking a different approach towards the same goal.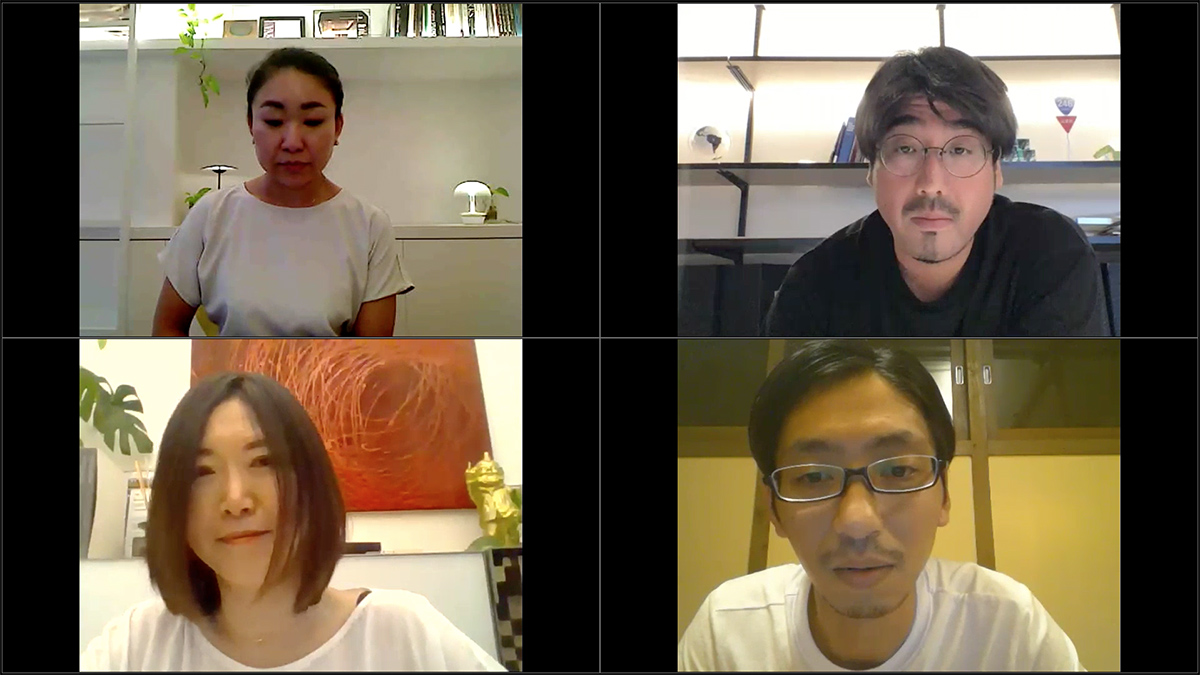 At the end of the webinar, Mr. Nagashima asks the three designers, "what do you design by lighting design?" Ms. Konishi answers, "We design ." Mr. Nagatsu answers, "Lighting design might be one of the jobs that design ." Ms. Masaki says that lighting is something that people feel, and she wishes to design a comfortable "lighting environment that fosters ." After hearing the three designers' stories, Mr. Nagashima reflects on his work and adds that he designs "people's movement" by lighting design. Circling back to the opening question, "What is the New Normal of lighting design?", he concludes that the more enjoyable space where people can actually experience something, is necessary to be made by discussing how people can enjoy the place and the space they use.
【Date】June 29th, 2020
【Location】IALD-Japan WEBINAR
【Panel Members】Miho Konishi, Kazuhiro Nagashima, Tsutomu Nagatsu, Masako Masaki
【Host】IALD-Japan