Event/Workshop Report
2021.10.5
Let's Take a Look! Lighting Design Vol.3
Let's Take a Look! Lighting Design Vol. 3
The webinar "Let's take a look! Lighting Design Vol. 3" was held on August 6th, 2021. This was the 3rd installment in the webinar series aimed at students with an interest in lighting design, in which professional lighting designers who are active in the field share their insight on what makes a good lighting designer and what they do, together with stories from their professional experience. In this webinar, we invited young lighting designers to talk to us about what they love about being a lighting designer, their role in society, and the projects they are involved in.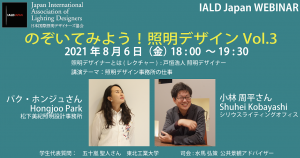 First, Mr. Hiroto Totsune of SIRIUS LIGHTING OFFICE Inc. talked  about the societal roles of lighting designers. The role of lighting designers is to enrich the lives and time of people through their experiences with light and to make public spaces more appealing, says Mr. Totsune. He explains that in order to do that, it's important to always experiment with new forms of illuminative expression.
He also compared the work of lighting designers to that of makeup artists, saying that lighting designers "further enhance the beauty that is already in architectural buildings and spaces".
The next two panelists were Mr. Shuhei Kobayashi of SIRIUS LIGHTING OFFICE Inc., and Ms. Hongjoo Park of Miki Matsushita Lighting Design Co.,Ltd.
Mr. Kobayashi, who studied architecture at university, told us about his approach to his work as a lighting designer, explaining the technical aspects of his work and sharing examples to illustrate. Mr. Kobayashi's career has been a succession of inputting and outputting, and the turning point was his assignment to work in Hong Kong – this gave him the opportunity to learn about different cultures and develop an objective view of lighting design in Japan, which he would not have experienced if his work had been limited to within Japan.
Mr. Kobayashi also pointed out that accumulating experiences of being emotionally moved by light is key in developing a lighting design that is unique to you.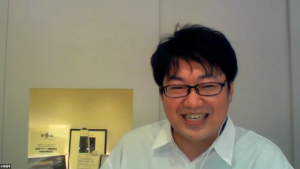 Ms. Park has had an interesting career, studying mass communications at university and then working as a corporate employee before becoming a lighting designer. She gave a detailed view into her work based on the projects she has taken on, discussing how she surveys the sites and creates simulations, the importance of conducting experiments on site, and the precision needed in combining all of this into a design.
Ms. Park says the three keywords in her work are "Variety, Versatile, Value". For Ms. Park, the beauty of being a lighting designer lies in the ability to contribute to society whilst interacting with a diverse group of people, and she emphasized the importance of consistent learning in order to develop creative sensitivities.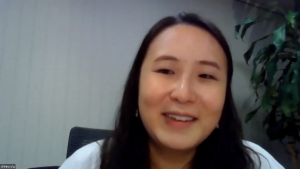 In the Q&A session, Mr. Masato Igarashi from Tohoku Institute of Technology asked a question as a student representative. His question was, "With the power of lighting design, how much charm or attractiveness do you think can be created in a city?" "I don't want to define a limit to the possibilities of lighting design," Mr. Kobayashi said. "That being said, although it's difficult to design the lighting of an entire city, if you are mindful of the interaction between the illumination of the building you're working on and the city landscape when creating your design, you will be able to enhance the charm of the city space."
Ms. Park responded, "Some projects involve creating landscape guidelines, not just lighting design, and these guidelines can change an entire city space." The organizers of this seminar, Mr. Hidekimi Mawatari and Ms. Kaori Umeda, were also asked this question. Mr. Mawatari explained that it is important to have a perspective of a city growing from the lighting in each individual property, rather than trying to create charm; Ms. Umeda described how each individual light adds up to create beauty in a city.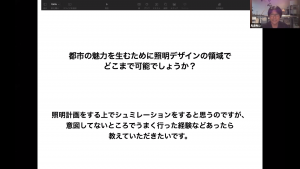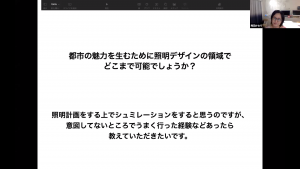 Mr. Totsune pointed out how guidelines carry the risk of creating standardized city landscapes. He also noted the importance of defining a leading light around which new lights can be added, ultimately enhancing the beauty of the city.
Another question that was asked was "Have you had any incidents where the lighting went well in a way that was unexpected in the simulation?" The two panelists both said that they are careful the lighting that they design work as intended, but Mr. Kobayashi added that he is blown away in the moments when artificial lighting and natural light come together beautifully. Ms. Park also mentioned that in order to make sure the colour of the lighting works with the space, it is important to see firsthand the space and the lighting fixtures before deciding on a design. Mr. Totsune shared stories from his professional experience where the design did not work as simulated and he and his team had to work creatively on site to find a solution.
The two panelists were blown away by the astute questions from the participating students and responded with equal enthusiasm, and with this, the webinar came to an end.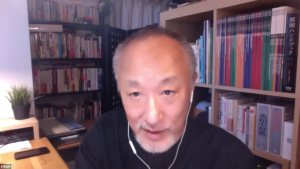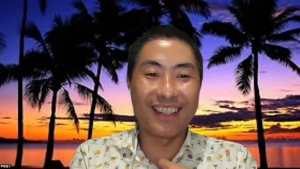 Date:August 6th, 2021
Location:IALD-Japan WEBINAR
Panelists:Shuhei Kobayashi( SIRIUS LIGHTING OFFICE Inc.)
Hongjoo Park  (Miki Matsushita Lighting Design Co.,Ltd.)
Host:IALD-Japan