Event/Workshop Report
2020.11.17
The 4th IALD Japan Webinar "Lighting Designers in different areas of Japan"
IALD Japan currently has a membership of more than 90 lighting designers in various areas. In this webinar, we invited two young lighting designers in Hokkaido and Kyushu as panelists. They introduced their activities and talked about lighting unique to their local area and some episodes from work.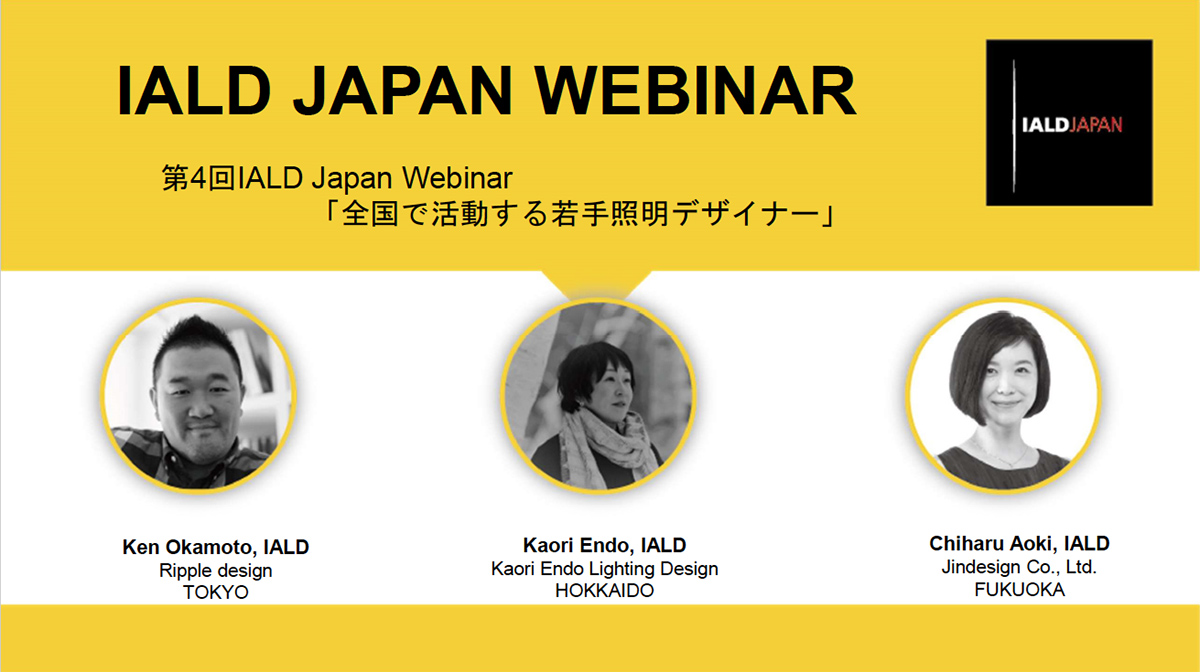 The session opens with the moderator Ken Okamoto of Ripple design in Tokyo, introducing Chiharu Aoki of Jindesign in Fukuoka and Kaori Endo of Kaori Endo Lighting Design in Hokkaido. This is followed by self-introductions and project details that rarely are shared even amongst our members.
Ms. Aoki was born and raised in Nagasaki, Kyushu, which is known for its beautiful night view, and reputed as one of the new top 3 night views of the world. She mentions how she grew up while Nagasaki became a tourist city of light, home to the Lantern Festival, and the Kingdom of Lights in HUIS TEN BOSCH.
It was when she was an architecture student that she aspired to be a lighting designer. While working at Kyushu's premier lighting design office in Fukuoka, she gained deep experience in creating the nightscape of cities through the projects. Afterward, she set up a lighting and architecture design office with her architect husband, and works as a lighting designer with the aim of "creating a memorable lighting view of Kyushu."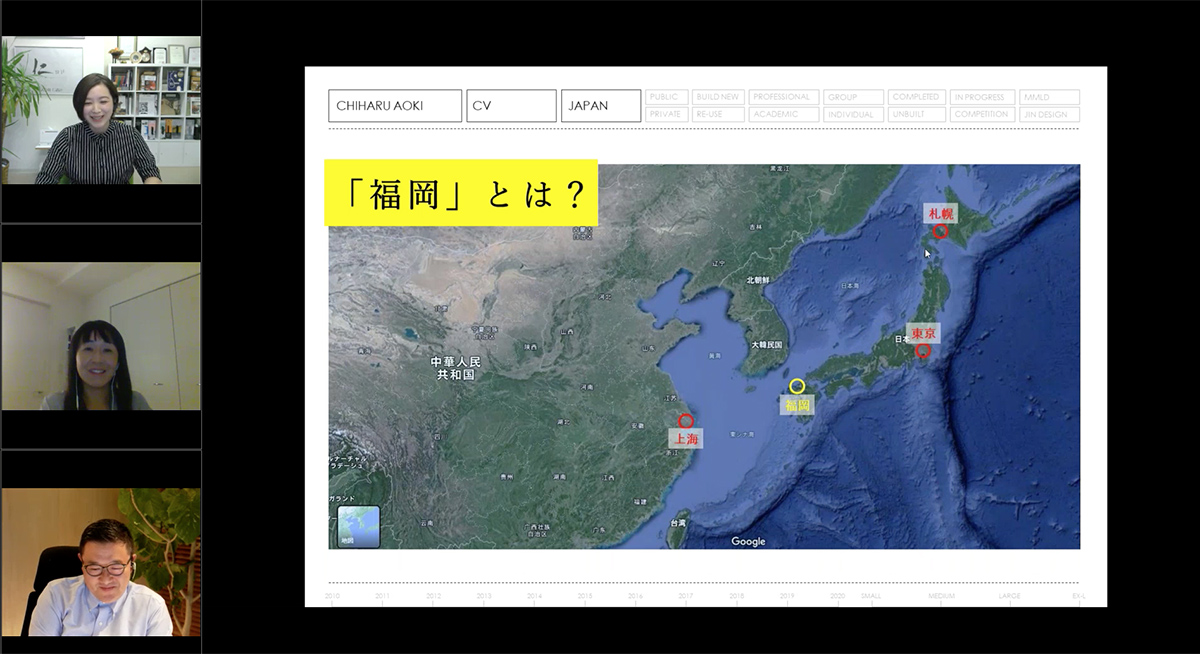 She explains various projects she is currently involved; the conversion of a house into a store, renovation of a house, illumination of the autumn leaves at a temple in Saga, and housing renovation in neighboring China, that is to take advantage of the location of Fukuoka. She says that in each project, she strives to make a plan that respects the traditions and local characteristics of the region.
The next speaker is Ms. Endo of Kaori Endo Lighting Design, who practices lighting design in Sapporo, Hokkaido. Born and raised in Hokkaido, she worked for several years at a lighting design office in Tokyo after graduating from university. She then joined the Master's Programme in Architectural Lighting Design at the Royal Institute of Technology in Sweden . After graduating, she worked as a lighting designer in Stockholm for a total of 6 years, returned to Japan in the fall of 2014, and opened her own practice in Hokkaido. Currently, she does lighting design mainly for accommodations, private residences, landscapes, offices, and nursery schools in Hokkaido.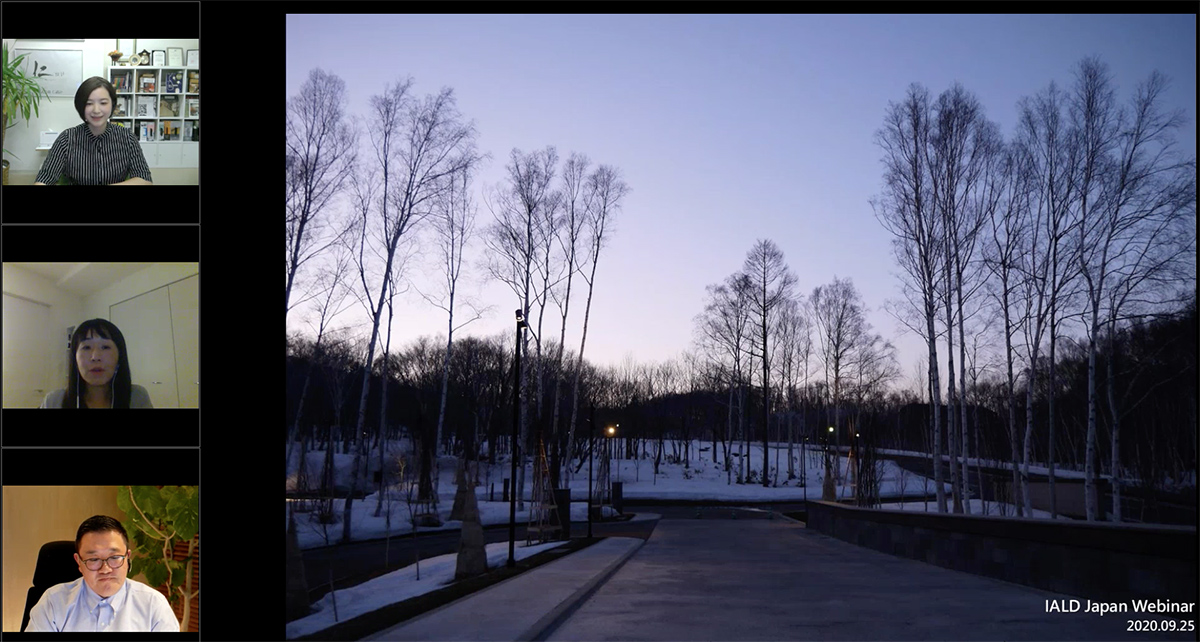 She talks about the projects of a ski resort as well as an event lighting for the Sapporo Snow Festival. In Hokkaido, the development of ski resorts is active, so there are many projects involving accommodation facilities such as hotels, villas, and private lodgings. When the scope of the design project includes outdoor lighting, she first and foremost assumes a situation with snow accumulation during the winter months. For example, in one project, she used custom-made 5 meter poles combined with spotlights to illuminate trees and focal areas of landscape in anticipation of deep snow accumulation. Also, in terms of the effect of light, luminance multiplies several times in winter compared to summer. With this in mind when planning, she sets the brightness according to the winter months.


As for the lighting plans for villa houses, in many cases, the sites are in nature, and the surroundings are completely dark. Therefore, she always thinks about adjusting the brightness balance, which is entirely different from urban areas. As an exceptional project that is different from her usual work, she introduced the 2018 "Sapporo Snow Festival," in which she was in charge of concept design and supervision of the event lighting. That year marked the 150th anniversary of the establishment of diplomacy between Japan and Sweden, and a cathedral in Sweden was reproduced with snow and lit up. She says that she used a playful production using very colorful lights, and there was an interesting aspect to the project that was different from an architectural lighting project.


After that, Mr. Okamoto, the moderator, briefly introduces himself, and the discussion proceeds in the form of two panelists answering Mr. Okamoto's question.
When asked, "Are there any episodes unique to the Fukuoka or Kyushu area when working on lighting design?" Ms. Aoki answers, "There are many hot-spring areas in Kyushu. However, there are not many lighting fixtures to choose from when designing facilities with hot spring. It is especially true when the hot spring contains a high amount of sulfur, as there are very few options available." Ms. Endo adds, "Hot spring is a major entertainment for Japanese people. So it would be nice to have more options for hot spring facilities to improve their atmosphere."
The next question is, "What do you learn at a lighting design school in Sweden?" Ms. Endo answers, "I enrolled in the Master's Programme in Architectural Lighting Design at the Royal Institute of Technology in Sweden. It was very impressive that there was a daylighting design class. In Europe, daylight is also part of the lighting design, and it was very interesting to study such really basic elements." Also, when asked about the requirements for admission, she answers, "There is no examination for admission, but you need to submit an English motivation letter (or a statement of purpose) and letters of recommendation, and a TOEFL score of a certain level or higher."
Ms. Aoki, who works with her husband as a team, is also asked, "As a lighting designer, what are the merits and strengths of having an architect husband?" She answers, "Each of us has a high level of expertise, so we make a very strong team. As communication is very easy between us, we can grasp small changes almost immediately, so there is no loss of time." Moreover, even in a lighting design project, she makes a proposal on architectural aspects, and vice versa, which is unique to the mom and pop architecture/ lighting design firm.


Finally, a question from a listener leads to a discussion about the differences in sensitivity towards natural light as they live in the north and the south, where there is a about an hour difference in sunlight hours. Ms. Endo, who majored in art at university, well remembers when her teacher told students in a painting class, "People from Hokkaido tend to paint gray or bluish pictures." She thinks that this may be because the impression of the grayish sky of Hokkaido in winter and the blue color of the shadows falling on the snow are ingrained into people in Hokkaido without realizing.


On the other hand, Ms. Aoki says that Kyushu has a very long daytime, and the light is relatively strong. So if the difference in color temperature between outdoor light and indoor lighting is drastic, it occasionally draws a strong sense of discomfort. Therefore, especially when working on a local project, her office has a principle to choose warm white or a color temperature that is a little closer to natural light for indoor space which is mainly used during the daytime.


After these discussions, Mr. Okamoto says that in the hot and humid Asian region, light with a high color temperature such as clean neutral white or daylight color is favored. On the contrary, in northern regions such as Hokkaido where the winters are bitterly cold, people have tendency to prefer low-color temperature light that feels warm, such as sodium lamps. He concludes the webinar by saying that the difference in the perception of natural light among prefectures may be related to the differences in seasons and climate.
Date: September 25th, 2020
Location: IALD-Japan WEBINAR
Moderator: Ken Okamoto
Panel members: Chiharu Aoki, Kaori Endo
Host: IALD Japan