Event/Workshop Report
2020.10.19
Before and After: Conversation with Lighting Designers of Asia's Hub Cities
With the COVID-19 outbreak, the year 2020 has become something totally different from what we imagined at the beginning of the 6th year . For the third and last webinar of the year, we took an advantage of the remote setting and had two lighting designers based overseas as panelists by connecting three hub cities in Asia; Fukuoka, Hong Kong, and Singapore. Now that we can have a meeting from anywhere in the world through the internet, what are the "before" and "after" COVID-19 ? The two panelists working abroad discussed based on their experience and the situation of their countries.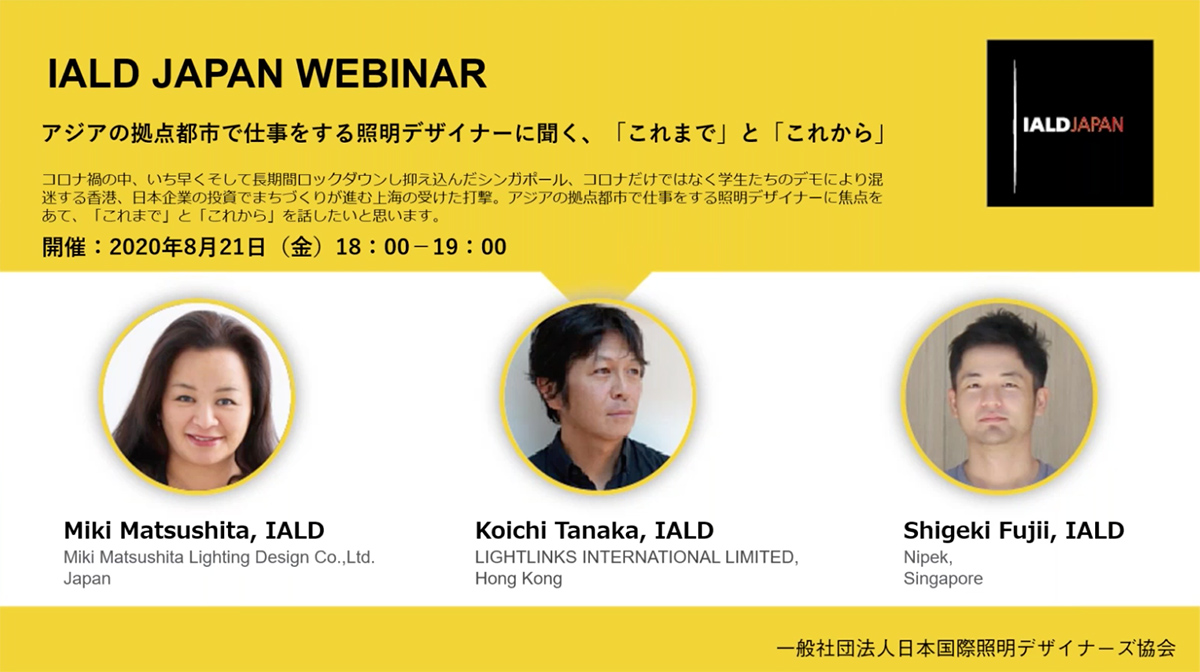 The first speaker is Koichi Tanaka of LIGHTLINKS INTERNATIONAL LIMITED in Hong Kong. Before founding the company in Hong Kong in 2011, he studied in the UK and worked in Italy and Japan, where he mainly worked on international projects. After nine years in Hong Kong, 2020 turned out to be a challenging year. Although the first and second waves of COVID-19 were relatively well-controlled, Mr. Tanaka is concerned about how the unstable social situation started last year would affect his business. He says, "Almost all of the employees in my office are young Hongkongers. For their future, I need to consider how we will move forward carefully. 2020 will definitely be a turning point." Now 40% of his projects are in Hong Kong, 40% are in mainland China, and the rest are in Macau and other locations. He engages in various projects without narrowing down the types of projects.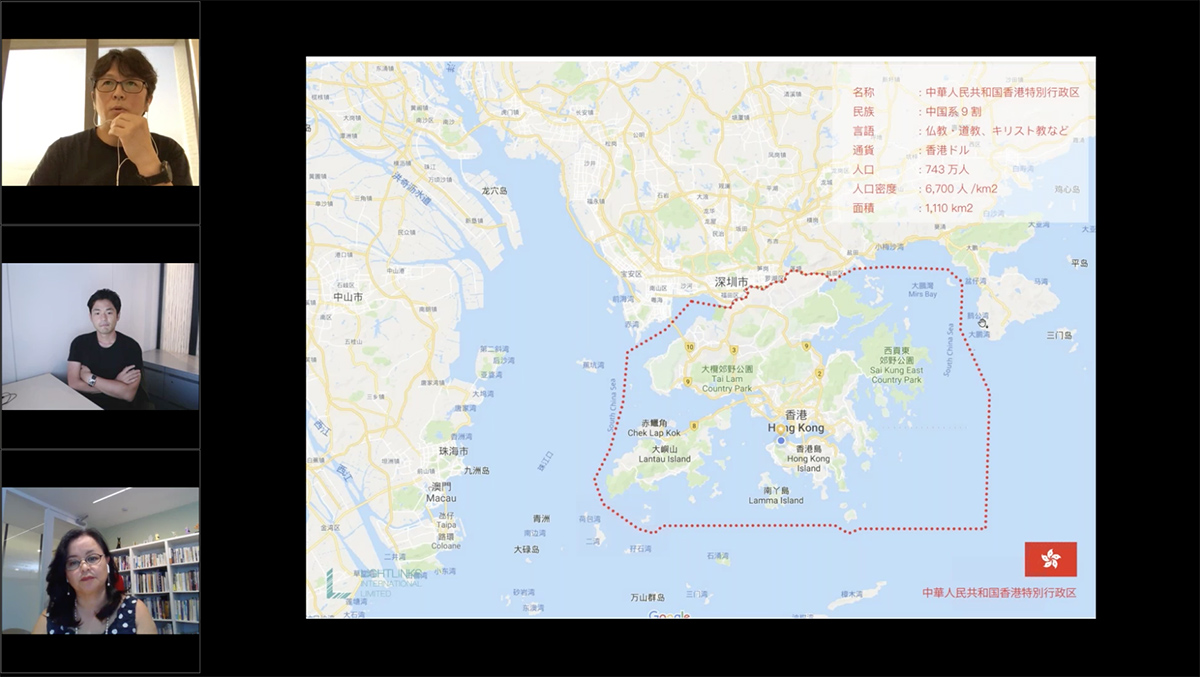 Next up is Shigeki Fujii of Singapore-based nipek. Out of his strong interest in working abroad, especially in Asia, he moved to Singapore in 2009 and established his own company in 2013. 80% of his projects are in Singapore, and 20% are in other countries. For international projects, he works with collaborators in different countries. When a client is in Singapore, for example, the project site is in Greece and the architect's office is in the US. Mr. Fujii says he likes this environment where people work regardless of nationalities. As for the effects of the pandemic, although the circuit breaker measures were announced in April and non-essential and non-urgent outings were prohibited for two months, things are returning to normal.However, he adds that the projects within Singapore were severely damaged because all domestic construction was suspended due to a surge of infections among onsite foreign workers.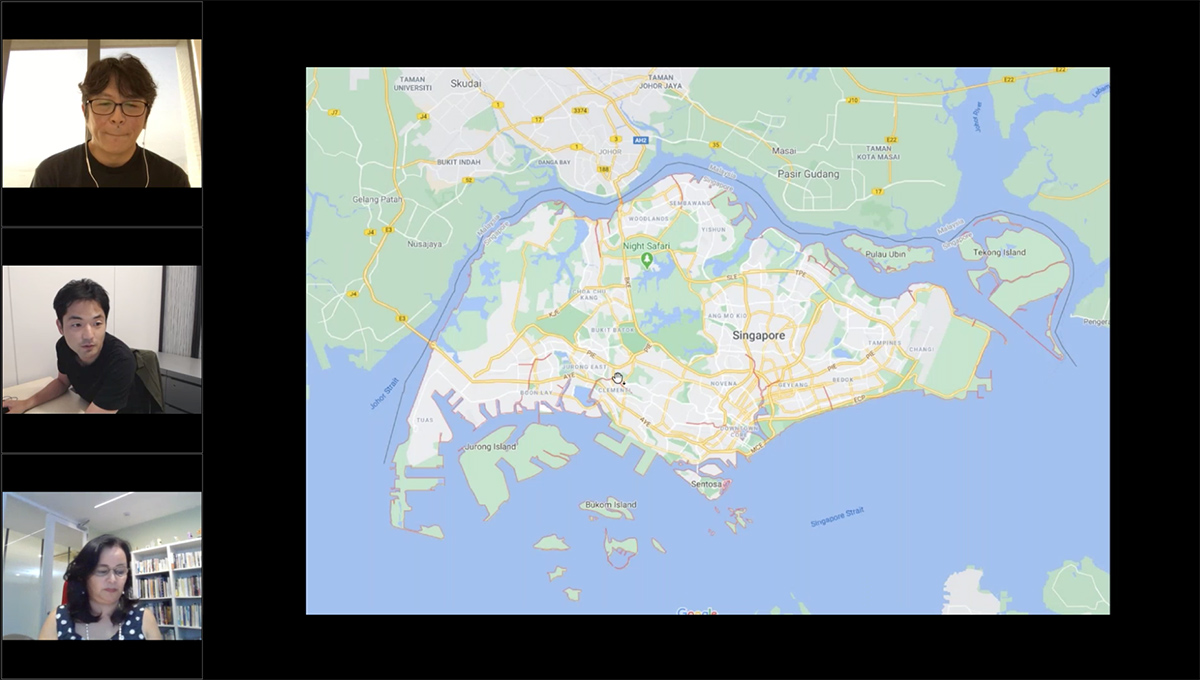 In response to the "before" stories by Mr. Tanaka and Mr. Fujii, moderator Miki Matsushita mentions that 2020 is indeed a year of change, but there were a number of revolutionary changes in history. In this time of transformation, the two panelists based in Asia still stay ambitious and work internationally. In the latter half of the webinar, they talk about the "after" COVID-19 and how they see the future.
Mr. Tanaka says, "I am not totally sure about the future. However, I will not move out of Hong Kong as I value know-hows and clients that I have acquired over the past nine years." Whereas, Mr. Fujii says, "The social situation in Singapore is a more stable compared to Hong Kong. Besides, it is not difficult for foreigners to live here. So people and money are flowing in from Hong Kong.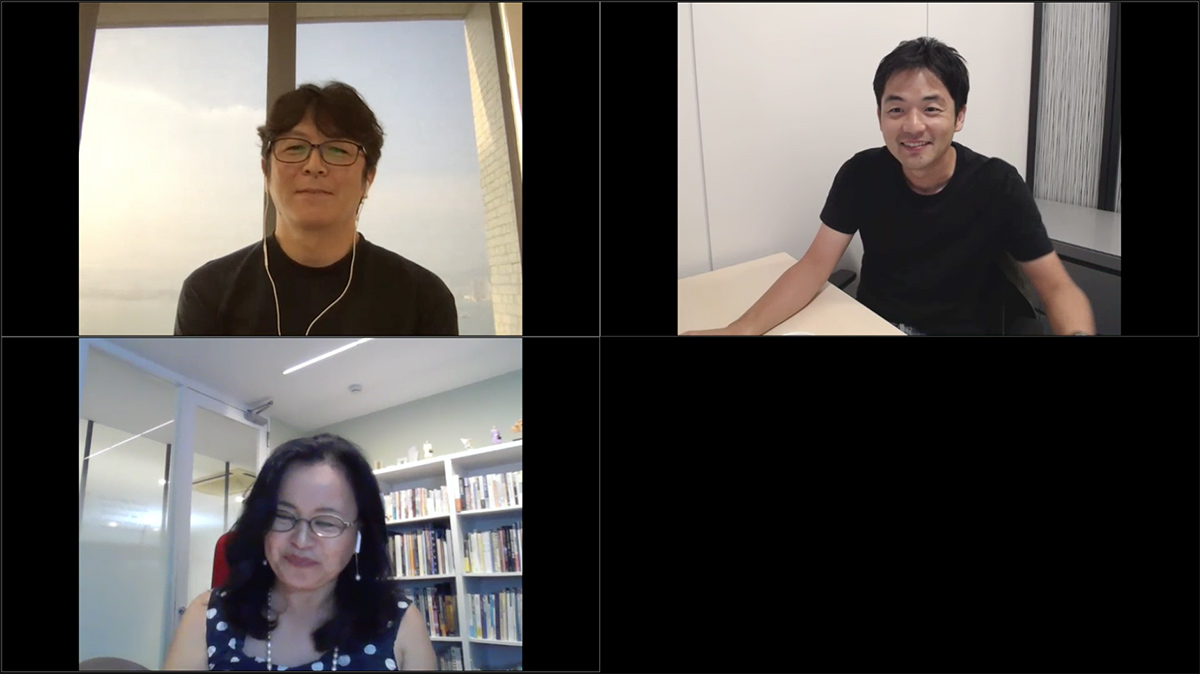 The two panelists also advise the next generation of lighting designers, including students, to work with a free mind, regardless of where they find a job or start their own business.
Mr. Tanaka presents three keywords; "flexibility," "tolerance," and "foresight." "Flexibility" to deal with various things that happen in daily life while accepting them is very important, and we need to establish a thought process so that we can handle them smoothly. For "Tolerance," we need to be open-minded to communicate and accept and accumulate others' opinions while keeping our own uniqueness. "Foresight" is the ability to look ahead. Misjudging what will happen next could become a disaster. He says it is essential to find out what we would like to be or do in five years or ten years by absorbing various information and talking with local people and clients.

Mr. Fujii feels that five years-worth of change "from analog to digital" and "from physical to virtual" happened within five months. As a result, lighting design will see two changes. One thing is that lighting design to enhance the experience in physical space will be highly demanded, as experience in physical space will be more valuable, contrary to the convenience of virtual space. He says there is a huge possibility for bridging physical and virtual by using lighting as a medium. The other thing is the change in the way lighting designers work. As online meeting and remote work have become commonplace and it doesn't make any difference wherever one is based, it will become easier to work internationally. He also adds diversity and possibilities will expand when each of us considers how to work from now, or if running a company, what kind of team to form.


Finally, moderator Ms. Matsushita says that it is important to understand locals and locality when working overseas. Only by understanding the history, ethnicities, humanities, and languages of the city and connecting with it, we can work globally. She concluded the webinar by saying, as the term 'glocal' indicates, those who understand both global and local will be successful in business.
Date: August 21st, 2020
Location: IALD-Japan WEBINAR
Moderator:Miki Matsushita
Panel members:Koichi Tanaka, Shigeki Fujii
Host:IALD Japan