Event/Workshop Report
2020.07.3
Dealing with the COVID-19 Crisis in IALD-Japan
As the novel coronavirus is raging all over the globe, and everyday life as we know it is gone now and renamed the new normal , what kind of business activities should IALD-Japan carry out? With four panelists composed of IALD-JAPAN Directors; Kaoru Mende, Reiko Chikada, Atsushi Kaneda and Tatsuya Iwai, a webinar "Dealing with the COVID-19 crisis in IALD-Japan" was hosted to discuss this topic.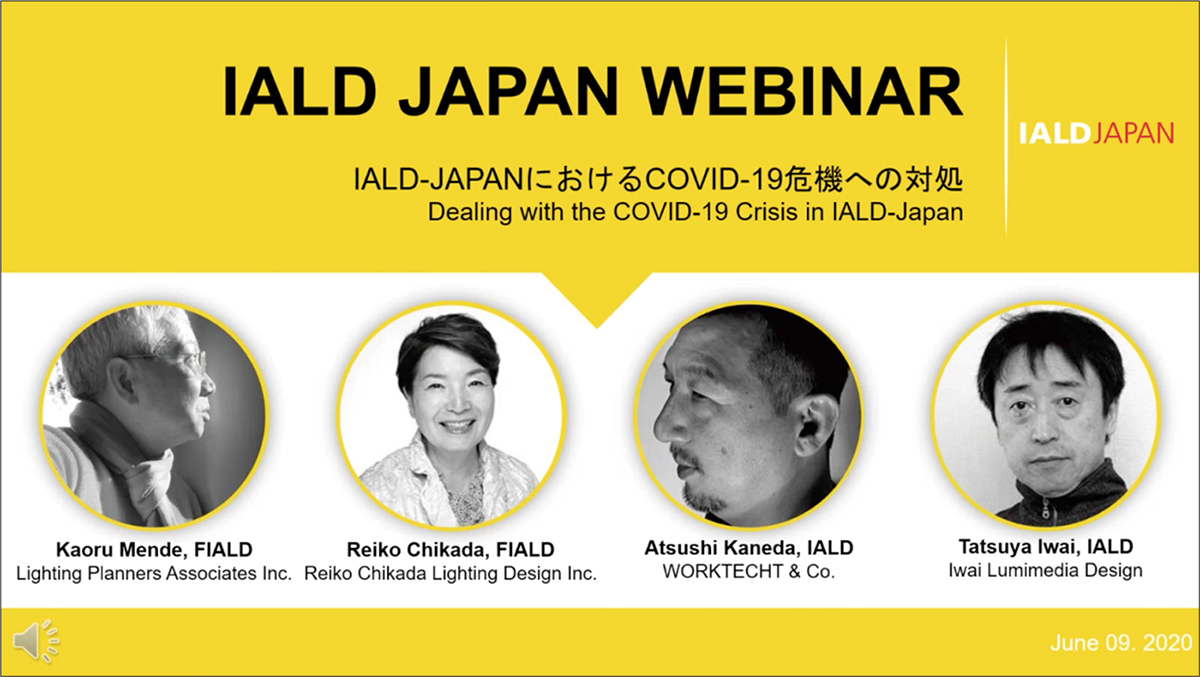 The IALD-Japan activities have been suspended or postponed due to the spread of the novel coronavirus. The purpose of the webinar, explained in the beginning, was to respond to this crisis in a positive manner..
Regarding the activity status of IALD-Japan, both the General Meeting and the Board of Directors Meeting were held online , although some events like "Lighting Trend on Stage" where people gather in very dense crowds, and a lighting design event for students "Let's Peek! Lighting Design Showcase and Social Gathering" were canceled. However, "Let's Peek! Lighting Design Showcase and Social Gathering" may be hosted online, taking into account that students currently take university classes online. Additionally, Mr. Iwai, the moderator and presenter, mentioned hopes and expectations for this webinar to encourage each member of IALD-Japan to launch various online projects and hold webinars in the future.
The panelists continued to mention how their firms are working out the kinks of shifting to telework, limiting on-site visits, and working in the office on as-needed-basis as a precautionary measure. But some commented that the situation is not all negative, and that it actually became easier to share daily status reports, and that communication became possible without having to meet face-to-face.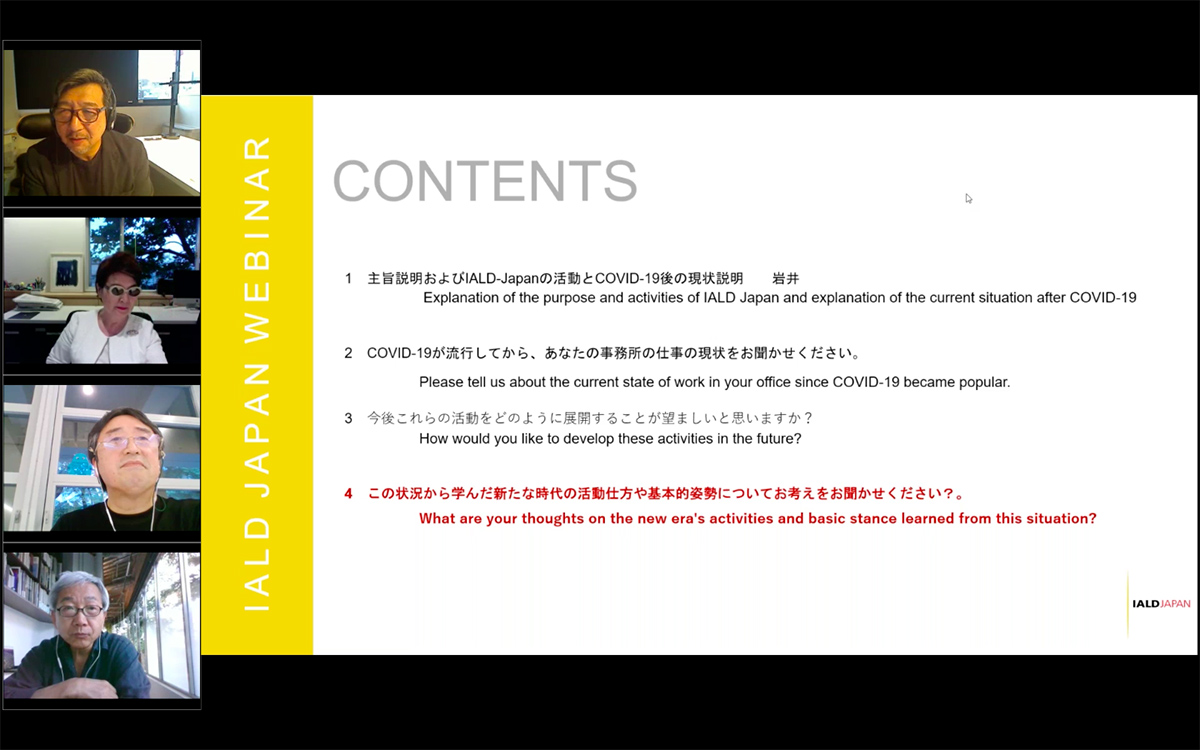 On the agenda of how to develop IALD-Japan's activities in the period of having to live with Covid-19 and in the future , there was a comment that Japanese people need to cultivate the ability to become beacons of information, despite their relatively strong ability to receive and absorb information. Ms. Chikada proposed that, via online, we may be able to see all IALD-Japan members' faces and hear their ideas. For example, members could send a 5 minutes self-introduction video to the headquarters to share what inspired them to be a lighting designer and their favorite lightings. That opens up the opportunity to know not only the members' faces, but also what they do, and preferences of lighting style and type.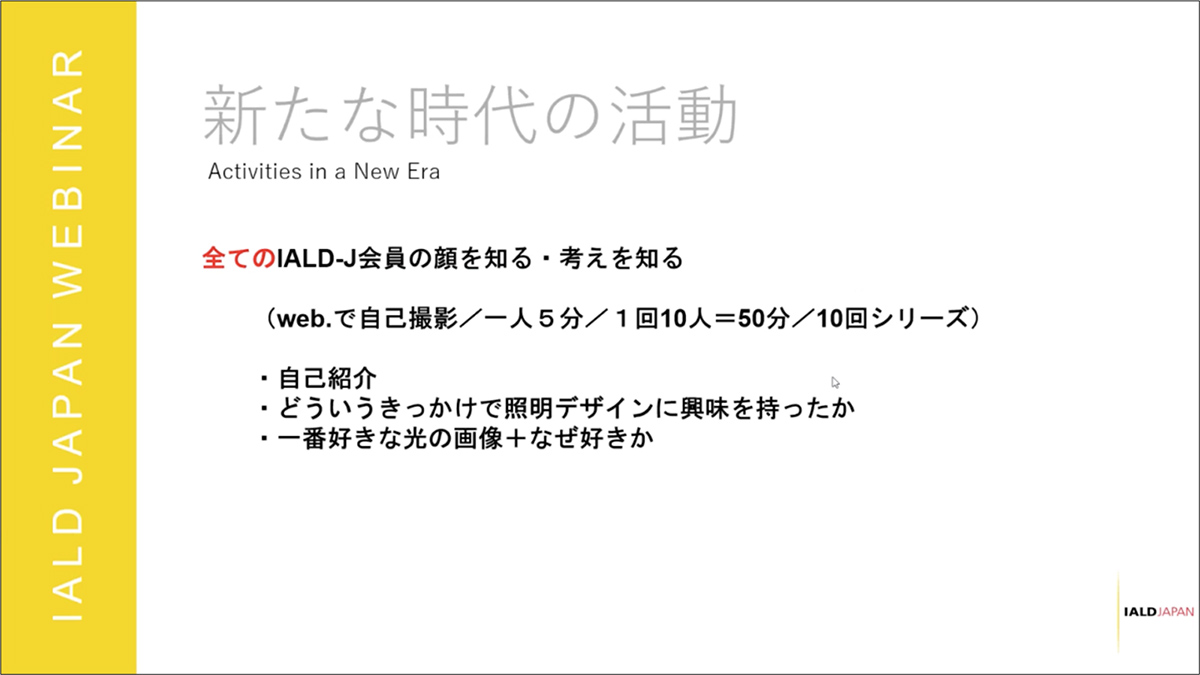 Mr. Kaneda also commented on the decentralization of seminars and events, from local concentration to regional distribution. An example would be a hybrid concept, gathering people from the Kansai region to Osaka for an event and a webinar to be held concurrently. It will expand the range of possible activities, by encouraging interaction with students and establishing opportunities for mutual exchange for designers and sales representatives from supporting manufacturers.
Towards the end, there was a discussion regarding what we learned and perceived from the novel coronavirus pandemic, how to perform activities, and the basic attitude as a lighting designer.
The discussion included ways to shift minds that tended to be inward during the stay-home period to outward, as well as to propose something not limited to Japanese by leveraging the international identity of the IALD group. One of the ideas was to distribute webinars globally on YouTube. Mr. Iwai suggested that Japanese people should go ahead and express their opinions in Japanese, given the current era with machine-translation transcending most language barriers.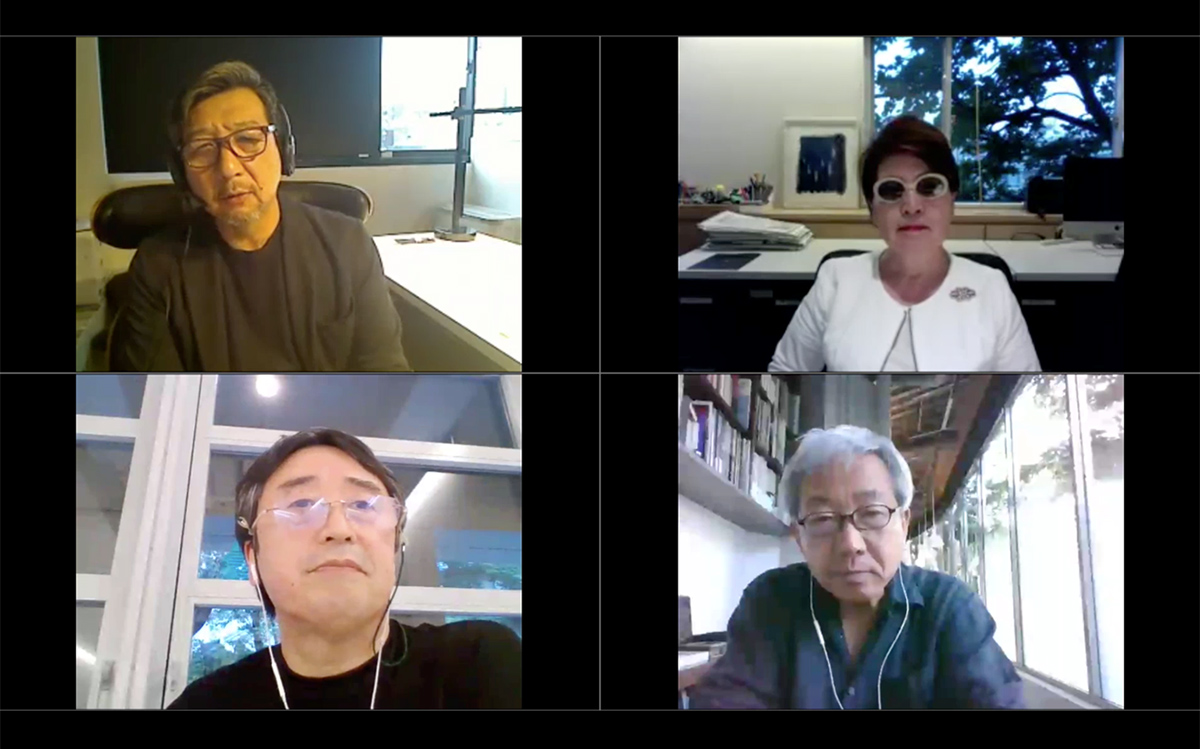 Finally, Mr. Mende talked about "the lessons Covid-19 has taught him" questioning: Which is more important, the economy or human life? Reflecting on this self-imposed isolation period as a lighting designer, he suggested that members of IALD-Japan may have to start a new discussion.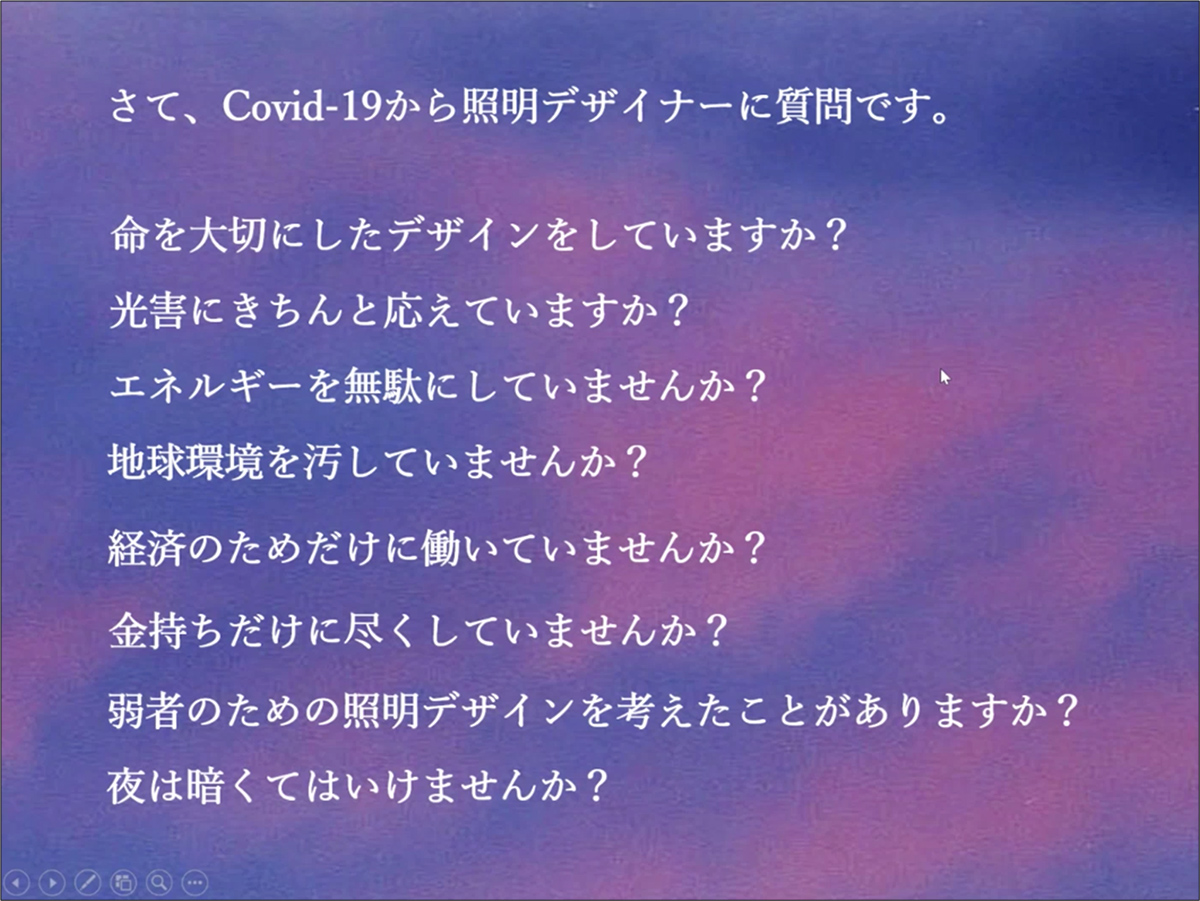 So, the webinar concluded with suggestions for the future: What is your vision from the standpoint of lighting, or what social need can lighting design contribute? Returning to the starting point of lighting design to ponder its purpose, we may find happiness in even small ingenuities. And with the manifest of light, perhaps lighting designers can raise their voices to the society and diverse fields.
【Date】June 9th, 2020
【Location】IALD-Japan WEBINAR
【Moderator/Presenter】Tatsuya Iwai
【Panel Members】Kaoru Mende, Reiko Chikada, Atsushi Kaneda
【Host】IALD Japan